Consultant Profile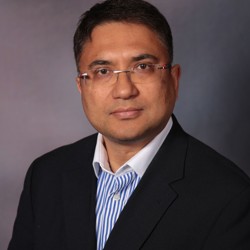 Mr Pradeep Basnyat MBBS, FRCS (General Surgery)
Practising at: Margate and Ashford
Specialties: Colorectal Surgery, General Surgery
Special clinical interests: Gall Bladder Stones, Incisional and Inguinal Hernias, Colonoscopy, Colorectal Cancers, Inflammatory bowel Disease, Diverticular Disease, Haemorrhoids, Pilonidal Sinus, Fistula-in-ano
Current NHS and /or university posts: Consultant General Surgeon for East Kent Hospitals University Foundation Trust.
Year of first medical qualification and medical school attended: 1989, Calcutta Medical College, India
Current membership(s) of professional, national and regional bodies: General Medical Council (GMC)
Affiliate Member of the Association of Surgeons of Great Britain and Ireland (ASGBI)
The Association of Coloproctology of Great Britain and Ireland Ordinary Membership (ACPGBI)
British Medical Association (BMA)
European Association for Endoscopic Surgery
Association of Endoscopic Surgeons of GB and Ireland (AESGBI)
Association of Laparoscopic Surgeons of GB and Ireland (ALS)
Background Information
After having completed secondary schooling in Kathmandu, Nepal he went to Medical School in Kolkotta, India. Mr Basnyat's higher surgical training was in Wales, UK. He was awarded Travelling Fellowship by the Royal College of Surgeons of Glasgow and Welsh Surgical Society, which hedid  at Colorectal Unit, Cleveland Clinic Fort Lauderdale, Florida, USA and University of Southern California, Los Angeles, USA in 2001.
Mr Basnyat been working as Consultant General and Colorectal Surgeon at East Kent Hospitals University NHS Foundation Trust based at William Harvey Hospital since 1st April 2002. He has had several publications and presentations of research and audit work at peer review journals and international meetings over the years.
His interest in General Surgery includes – Laparoscopic Cholecystectomy, Laparoscopic Inguinal Hernia Repair (TEP & TAPP), Laparoscopic Incisional Hernia Repair, Managements of Complex Incisional and Abdominal Reconstruction Surgery
Colorectal Surgery –
Colorectal Cancer Surgery including Laparoscopic Resections and TAMIS
IBD including Ileo-anal Pouch Surgery
Benign Colorectal Surgery including treatment for Rectal Prolapse, Stapled Haemorrhoidopexy (PPH), Pilonidal Sinus and Anal Fistula Surgery
Colonoscopy and management of Colorectal Polyps.