Consultant Profile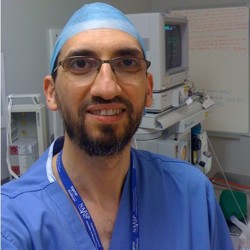 Dr Ayman Hamade MD, FRCSI, FRCS (Gen Surg)
Practising at: Margate
Specialties: Colonoscopy, Colorectal Surgery, Endoscopy, General Surgery, Hernia Repair Surgery, Laparoscopic Surgery, Minimal Access Surgery
Special clinical interests: Colorectal surgery Laparoscopic surgery
Current NHS and /or university posts: Consultant Surgeon at East Kent Hospitals University NHS Foundation Trust. General Secretary to BAMA. Member of Surgical Training Committee in South East England.
Year of first medical qualification and medical school attended: 1990
Current membership(s) of professional, national and regional bodies: GMC ASGBI ACPGBI MPS BMA BAMA
Background Information
Mr Ayman Hamade is a Consultant Surgeon based at the Queen Elizabeth the Queen Mother Hospital in Margate, Kent. He has received rigorous structured training in general, laparoscopic and colorectal surgery in the well recognised training hospitals of London and the South East of England. Mr Hamade is also on the Specialist Register of the General Medical Council.
Mr Ayman Hamade is an approachable doctor and has very good communication skills with his patients and insures that his patients are fully informed and involved in their management.
Mr Hamade is trainer at the Royal College of Surgeons of England involved in training all levels of junior surgeons.
His main colorectal interests are colorectal cancers (laparoscopic resections), perianal fistulas and haemorrhoids in all known techniques depending on patients' findings. Every treatment is tailored to patients' condition.
In general surgery Mr Ayman Hamade performs most hernias laparoscopically as well as laparoscopic cholecystectomy. He is trained in treating inflammatory bowel disease when it requires surgical management.
Mr Hamade specialises in:
General Surgery

Anal conditions

Colorectal diseases and cancers

Endoscopy and colonoscopy

Laparoscopic Surgery