Consultant Profile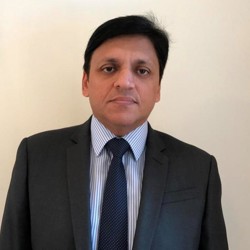 Dr Abdul Khan MBBS. MSc, MRCPI, MRCP(UK), MRCP
Practising at: Ashford and Margate
Specialties: Rheumatology
Special clinical interests: • Inflammatory joint diseases
• Connective tissue diseases
• Gout, Osteoporosis, Osteoarthritis
• Fibromyalgia, Soft tissue rheumatology
• Pain management and Back pain
• Rheumatoid arthritis, Spondyloarthropathies (e.g Ankylosing Spondylitis, Psoriatic arthritis, etc)
• Soft tissue rheumatology
• Stress related musculoskeletal symptoms
Current membership(s) of professional, national and regional bodies: • Member of Royal College of Physician Ireland
• Member British Society of Rheumatology
• Member Kent and Medway Biologic Network
• Member Medical Protection Society
• Member of Royal College of Physician London
Background Information
Dr Khan has completed training in London South Thames in Rheumatology and General medicine. He has attained experience by working in big teaching hospitals including Kings College Hospital London and St Georges Hospital London. In addition he has managed general rheumatology both in inpatient and outpatient management, dealing with complex rheumatological conditions.
He is musculoskeletal ultrasound qualified from Canterbury Christchurch University and has experience in scanning for the early arthritis clinic and disease monitoring.  He also carries out ultrasound guided injections.
Dr Khan has a strong interest in researching Rheumatology and completed a MSc in Rheumatology from Kings College London in 2010. He tested the simple hypothesis that pre-treatment biomarkers predict response to biologics. It was presented at the 'American College of Rheumatology Conference' (ACR) in Atlanta USA 2010. He has been published in various papers and the most recent published in 'Annals of Rheumatic Diseases' which he looked at smoking and its response to biologics in Rheumatoid Arthritis patients which was presented in the 'British Society of Rheumatology Conference' (BSR) in Glasgow.
Currently working as a Consultant Rheumatologist and physician at Queen Elizabeth Queen Mother Hospital Margate, he is involved in Musculoskeletal  ultrasound training  of Specialist Registrars and also a supervisor of Core Medical Trainees.
Biologic Lead EKHT:
Currently Lead for Biologics in Rheumatology for East Kent University Hospital NHS Foundation Trust
Comprehensive experience of biologic treatment in various auto-immune diseases and inflammatory musculoskeletal conditions
Dr Khan has extensive experience in all aspects of Rheumatology. He aim is to provide comprehensive and timely care for patients. Technical procedures such as joint and soft tissue injections are available