Consultant Profile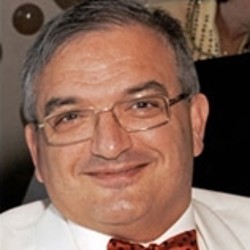 Mr Deya Marzouk MB, Ch.B, MS, MD, FRCSEd
Practising at: Margate
Specialties: Colonoscopy, Coloproctology, Colorectal Surgery, General Surgery, Keyhole Surgery, Laparoscopic Cholecystectomy, Laparoscopic Colorectal Surgery, Laparoscopic Hernia Surgery, Laparoscopic Surgery, Minimal Access Surgery
Special clinical interests: Colorectal cancer surgery, including laparoscopic resections, en bloc multivisceral resections & salvage surgery for recurrent pelvic cancer Colonoscopic screening for bowel cancer Advanced laparoscopic techniques including: Laparoscopic colorectal cancer resections Single incision Laparoscopic cholecystectomy Laparoscopic inguinal, Spigelian & incisional hernia repair Laparoscopic antireflux surgery [Nissen's fundoplication] Surgery for inflammatory bowel disease, including ileal pouches for ulcerative colitis & familial polyposis Surgery for rectal prolapse Management / Surgery for obstructed defaecation syndrome & faecal incontinence Anal diseases & complex anal fistula surgery Abdominoplasty
Research interests: Moleculer basis and biology of colorectal cancer (recently published a review in 'The Surgeon')
Current NHS and /or university posts: Consultant General & Colorectal Surgeon at East Kent Hospitals University NHS Foundation Trust QEQM Hospital, Margate Kent & Canterbury Hospital, Canterbury
Year of first medical qualification and medical school attended: 1981
Current membership(s) of professional, national and regional bodies: Association of Surgeons Association of Coloproctology BMA
Background Information
After graduating from Ain Shams Medical School in Cairo in 1981, Mr Marzouk completed his higher surgical training in London and North Thames.
During this period, he also undertook research at the Royal London Hospital into functional colorectal problems [incontinence and obstructed defaecation] affecting ileal and colonic reservoirs constructed for ulcerative colitis & cancer, for which he was awarded the Doctorate degree in Surgery from the University of London.
Mr Marzouk was appointed as a consultant surgeon in Egypt in 1993 & subsequently became a professor of surgery at Ain Shams University, Cairo. Mr Marzouk has been a consultant general and colorectal surgeon in East Kent Hospitals University NHS Foundation Trust since 1998 and was the trust lead colorectal surgeon for six years until 2008.
In 2005 his practice expanded to include Kent and Canterbury Hospital as well as the QEQM. He is a member of the Association of Coloproctology and Association of Laparoscopic Surgeons of Great Britain and Ireland.